My favorite part about traveling is to eat great food that I don't normally get to eat at home, so prior to my free trip to the Virgin Islands – I did a little digging into the island restaurant scene.  
"I can't wait for the food in the U.S.V.I.!"  I exclaimed to some friends.
"You don't really go there for the food."  Someone said.
Excuse me?! How dare someone say that?  Food is one of the best parts about traveling, as mentioned earlier.  Chase and I love going to restaurants together (currently, we are committed to going to five new restaurants before we go back to one of our favorite spots).
Fast forward to the Friday before we fly back to the Midwest (Ohio) and say goodbye to the aqua colored water beaches and hello to the flattest land ever.  Chase and I went back and forth before we agreed we should drink margaritas – we landed on Greengos Caribbean Cantina.  I am picky when it comes to my restaurant selections; in this case, I was worried it would mimic a chain restaurant, so I was hesitant (cough, cough, Chuy's [sorry!!]).
Chase had a screwy idea to walk there from our hotel (I was definitely opposed, but he wanted to be active, so I couldn't argue), so our trek began: down a steep hill, along a narrow road with no shoulders (which caused a great deal of panic for me), encountered a few iguanas and chickens along the way, and suffered through the sweat. It was only a mile, but in my head I thought I was crossing the desert.
Day of the Dead
We make it. We sit down at the bar. And boy oh, boy, was I wrong about my hesitation. I'm mad I even had hesitations because Greengos is the perfect spot to spend your afternoon on a hot summer day on the Islands.  You're greeted with the ever-so-famous sugar skull plastered on the wall as soon as you walk in.  For nearly 3,000 years, families have been celebrating the Day of the Dead – which emerged from ancient traditions amid the pre-Colombian cultures.  Now it makes sense as to why there are skulls and skeletons all over Greengos – it symbolizes the Mexican holiday where family and friends gather to support their loved ones spiritual journey who have passed away.

Tequila Club
See that chalkboard below to the left?  It's not just any chalkboard, it's the Tequila Club!  The top ten people who have tried the most and different types of tequila this year, and guess what?  I was sitting right next a legend, El Puto Rey – NUMBER TWO ON THE BOARD, that's right!  He is really close to being the Tequila Club's #1 champ!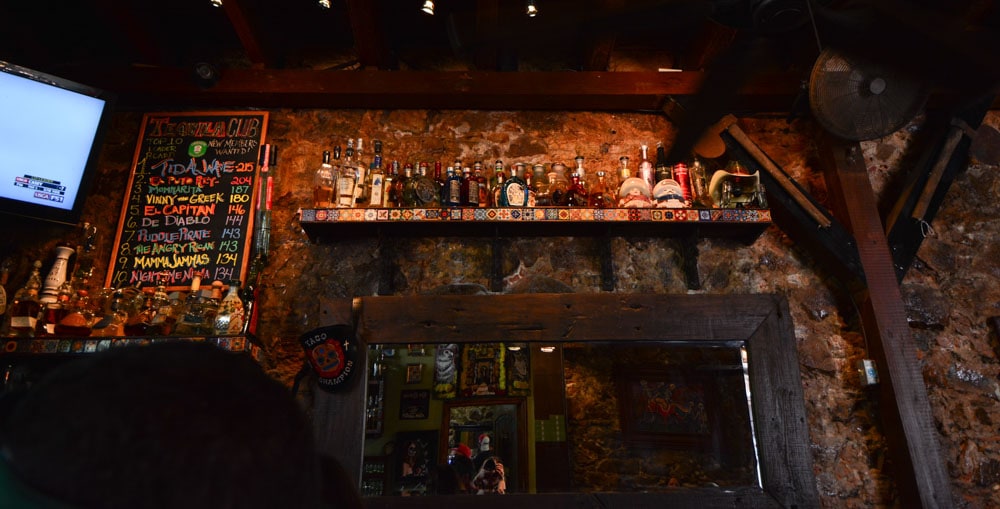 Cucumber Infused Tequila (and more tequilas) with Fruits, Veggies, and Spices
After our long, hot walk – we were thirsty and excited that they had a wide variety of margarita flavors (thank God)!  Little did I know…. Greengos Caribbean Cantina has the largest tequila section in the Caribbean making their margarita flavors fun and unique!  We tried a few: The Traditional, the El Verano (cucumber infused agave tequila), which was my FAVORITE.  I love any and all beverages that have cucumber in it, and the Bandito (chili infused tequila, cilantro, peaches), this was Chase's favorite AND his overall favorite spicy margarita, which says a lot.
Fun Fact: All glassware is made of recycled glass!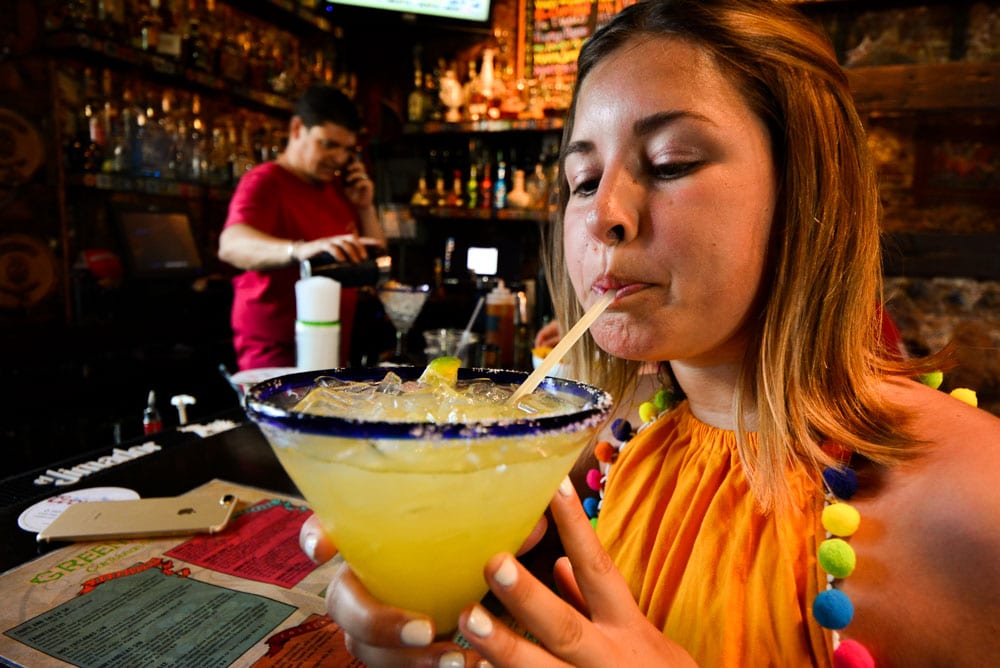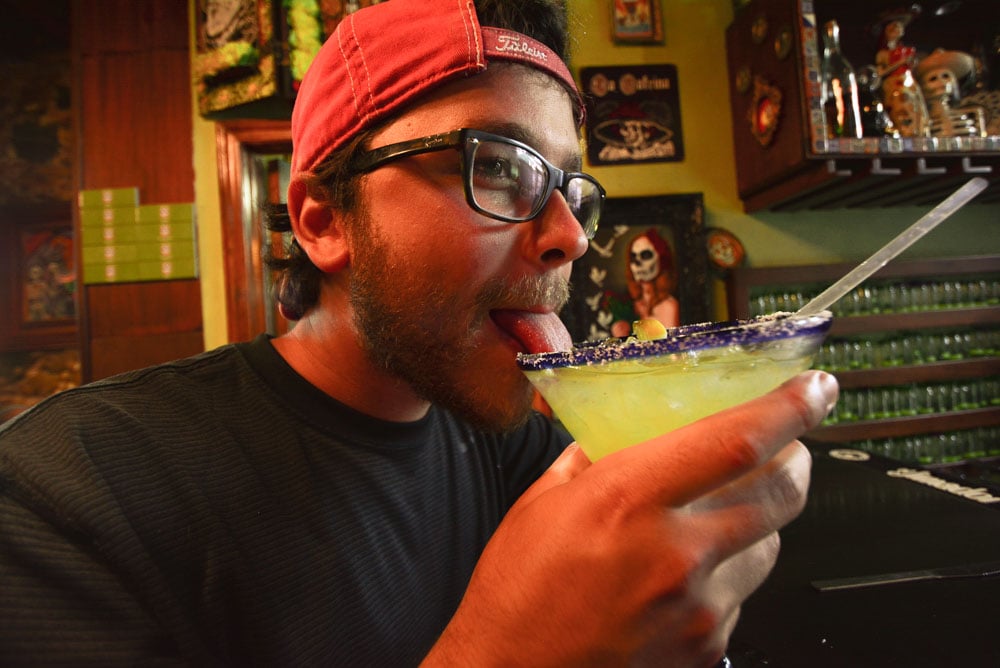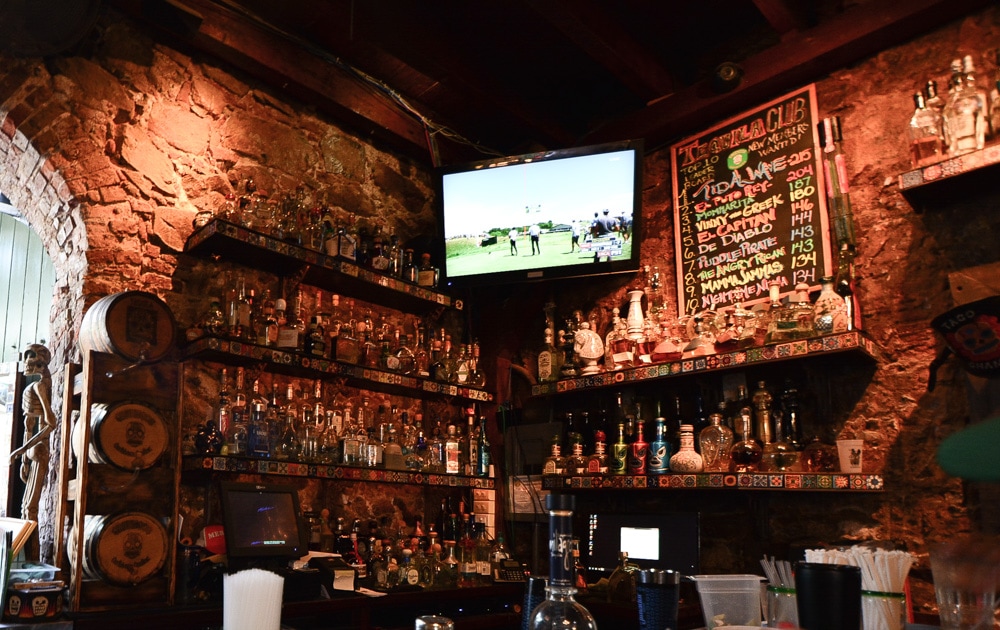 It was time to step up to the plate – I wanted to order the Cervezarita (32 ounce margarita with a beer on top) and this thing was a monster.  Honestly, I was so scared to order it, but everyone else was doing it.  Luckily, I had a great support system from Todd and Chase!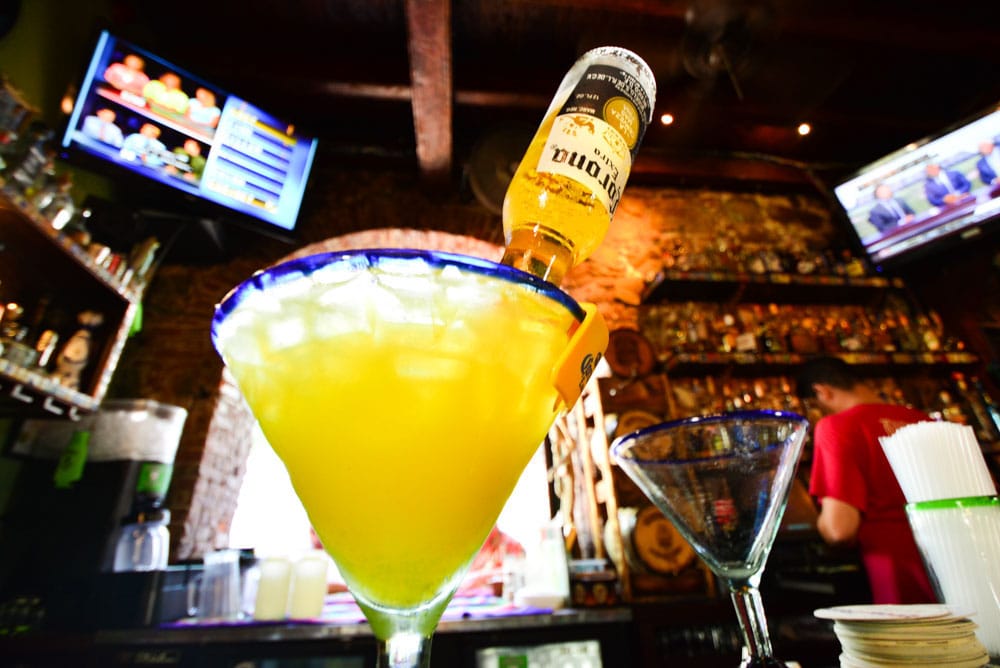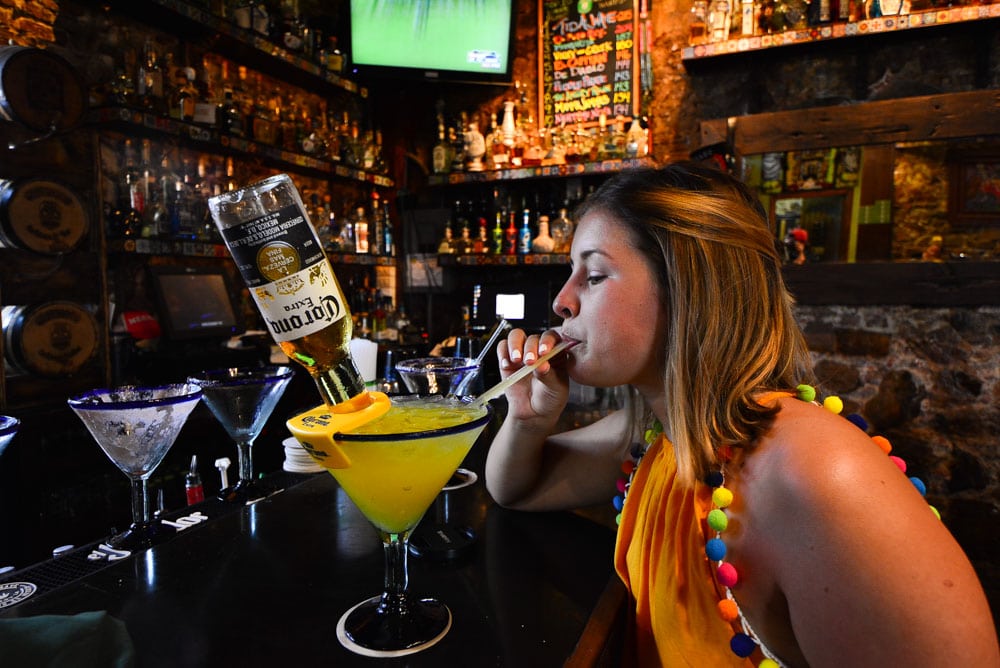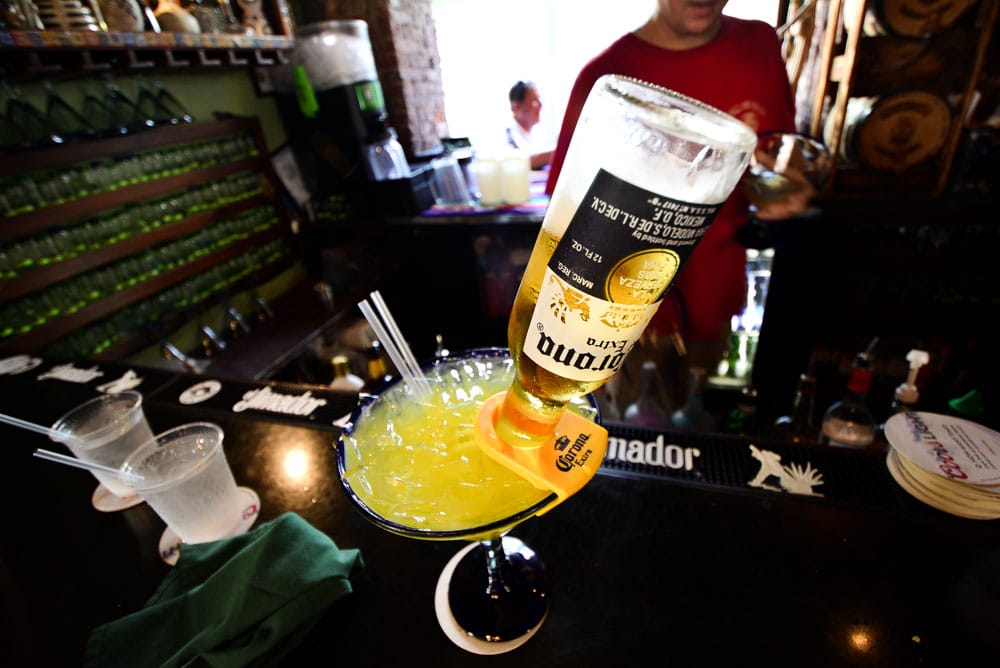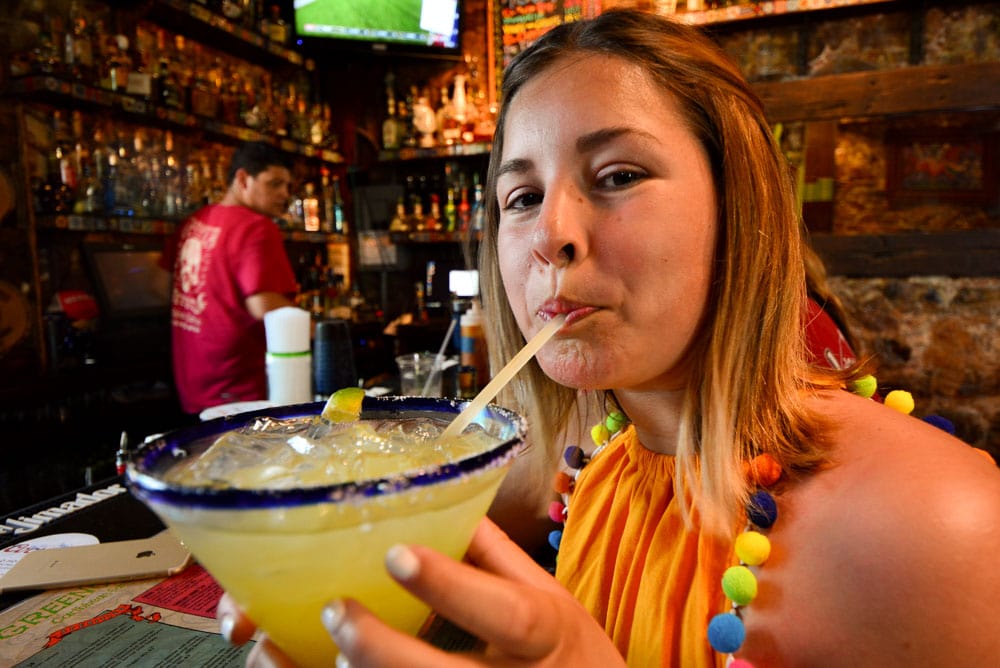 I was told most people can finish these on their own; however, I quickly realized that I am "not most people" and began to feel defeated along the way and had to call in back up.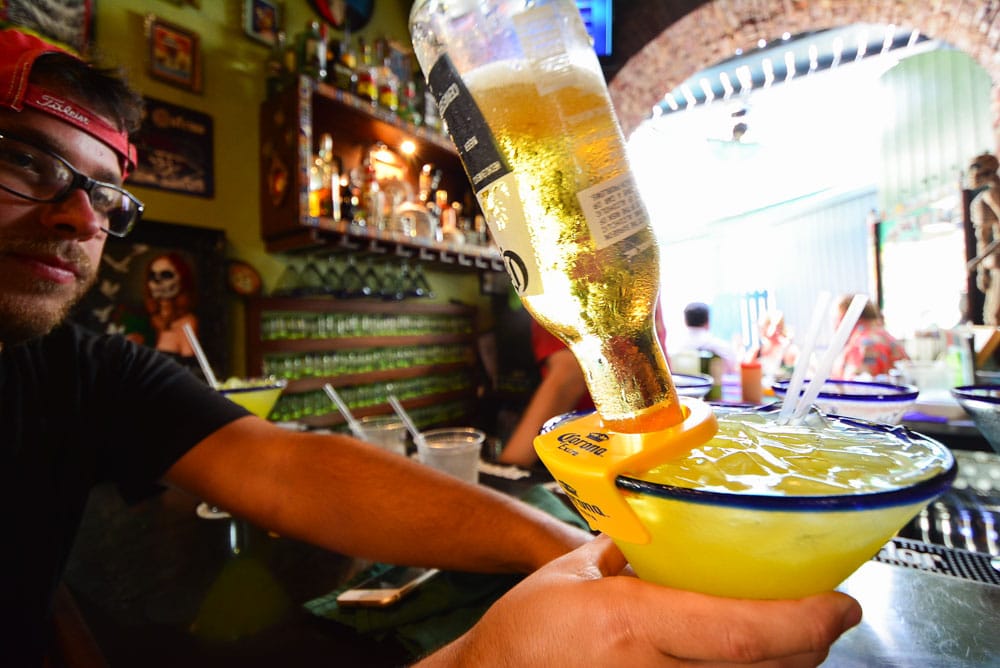 The People: Locals and Greengos Staff
Sitting at the bar really shaped our experience – we got to drink tequila and margaritas with the locals.  Chatting it up with the locals is fun because they let you in on their secret, under the radar restaurants/things to do, not only that, it's interesting to hear about what brought them to the island permanently, away from the industrial skyscrapers in the states.
Fun Fact #2: They are committed to going green by using recycled, biodegradable carryout containers.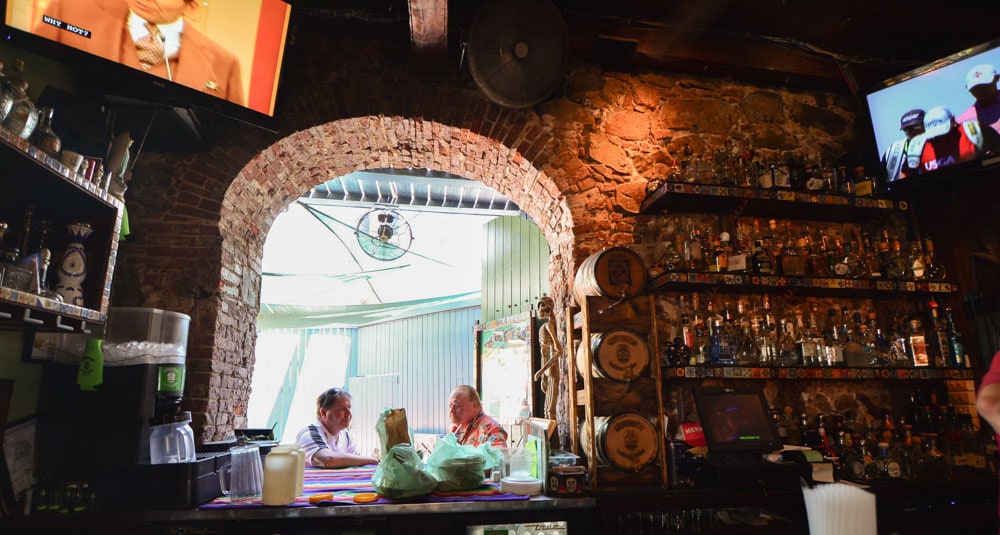 The Good Stuff – Deep Fried Taquitos and Shrimp Tacos
After some drinking and some chatting with the our new friends and Todd, our bartender at the time (who was AWESOME), we decided to dive into some taquitos and they were to die for.  We both agreed that we have never had a taquito so delicious.  We didn't even want to continue ordering them back at home (or buying my guilty pleasure.. the frozen taquitos) because it would ruin our memories of Greengos Caribbean Cantina.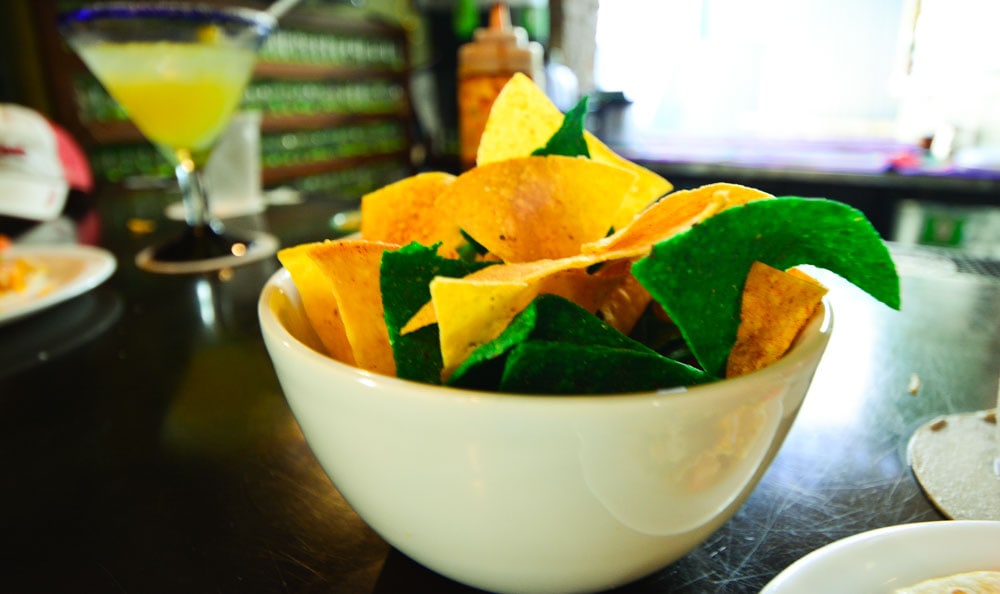 It was time to step up to the plate – I wanted to order the Cervezarita (32 ounce margarita with a beer on top) and this thing was a monster.  Honestly, I was so scared to order it, but everyone else was doing it.  Todd and Chase told me not to be scared and that most people can finish them on their own (LOL).
So, we drank, and we drank, and we drank.  I couldn't stop there – I needed to try the shrimp tacos and I am at a loss for words on how to describe how good they were.  The shrimp tacos were packed with flavor and everything was well balanced.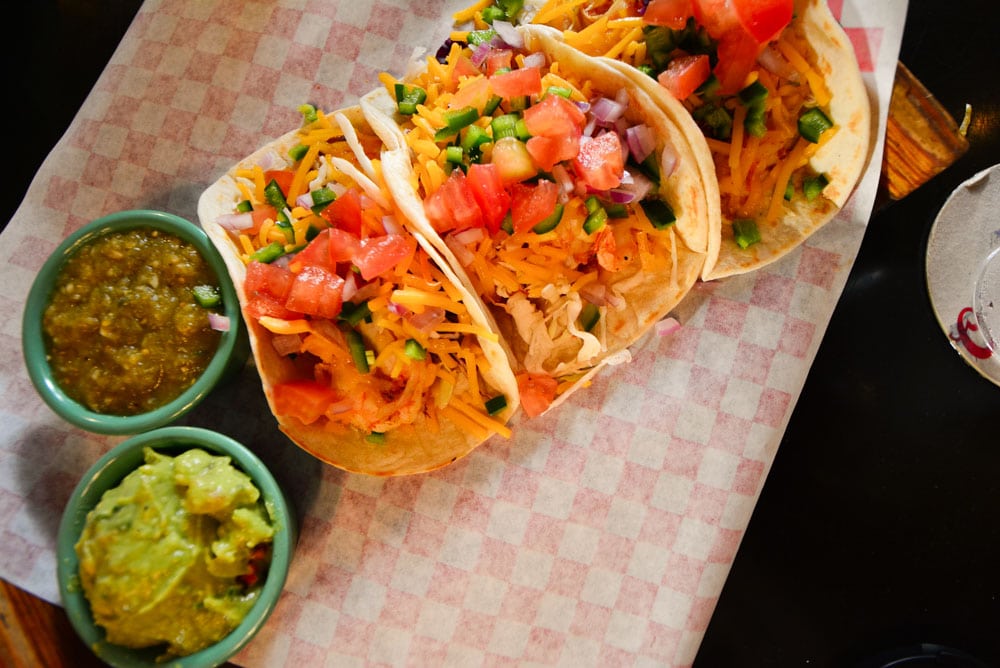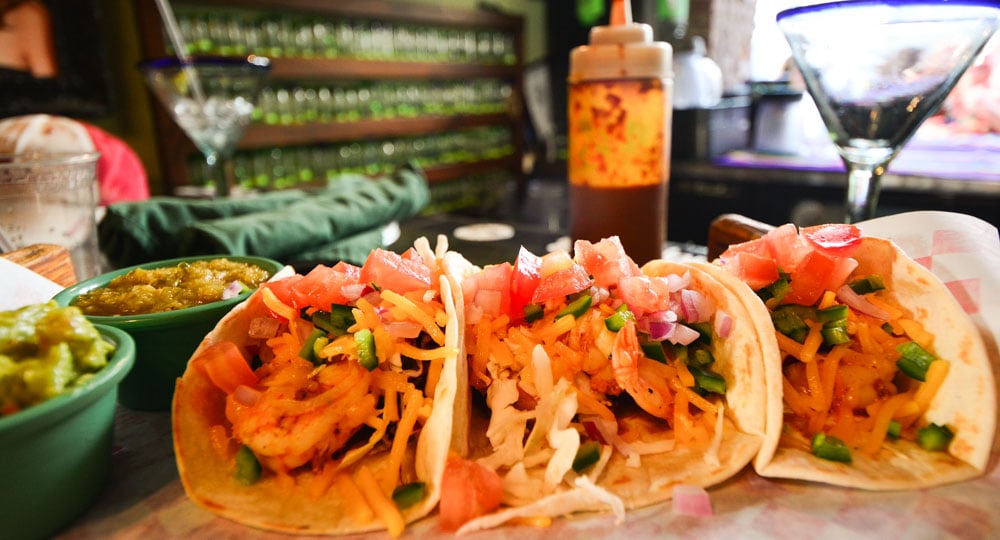 Shrimp tacos with chipotle aioli, shredded cheese, poblano peppers – I want them now!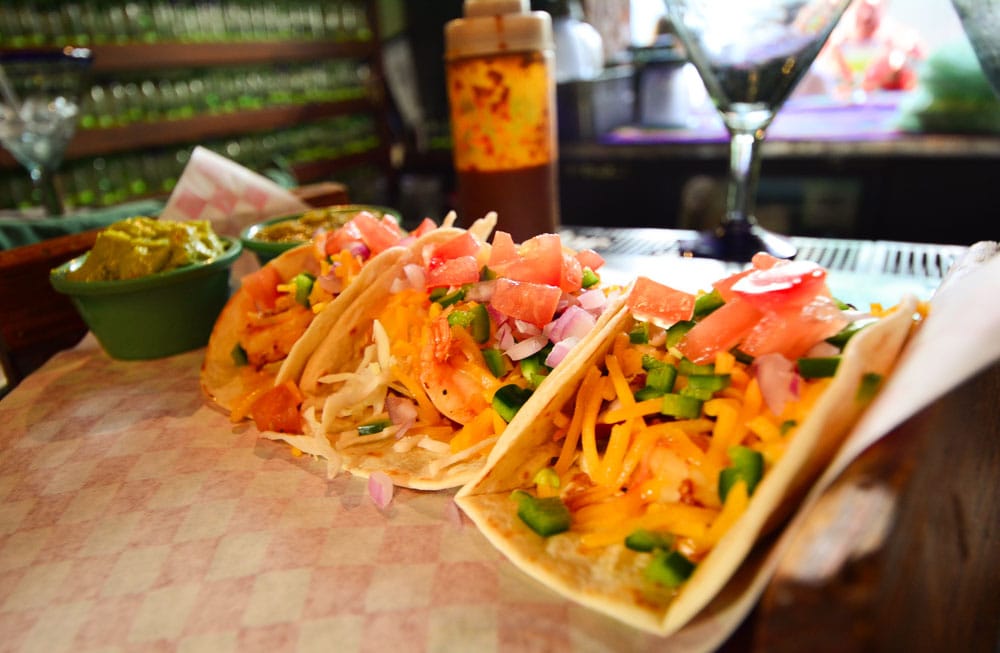 We had such a great time talking to everyone and learning about Todd's experience moving from Colorado and living on the island.  Did you know that you can get a free tequila shot when you check into Yelp?!  Chase slammed it and then we were on our way to hunt for the ice cream shop that the staff was ranting and raving about.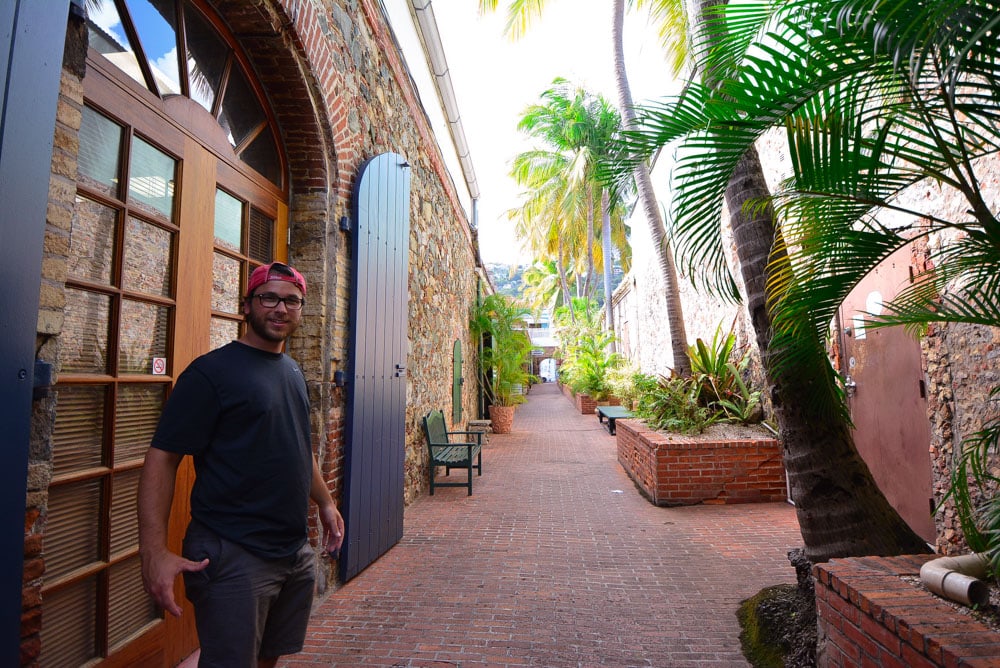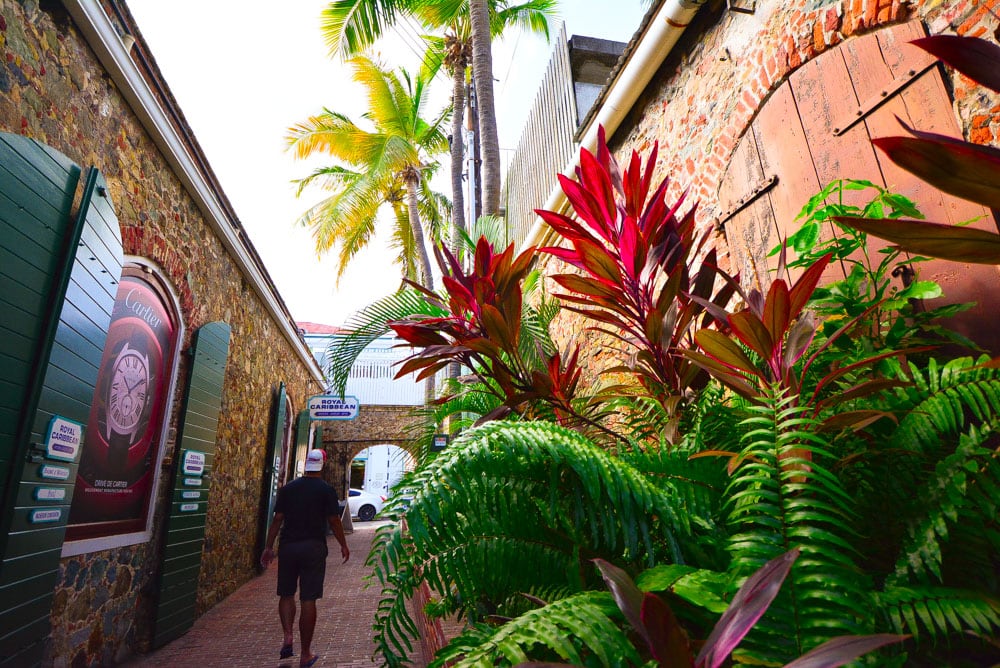 And so the ice cream hunt beings…
UNTIL NEXT TIME!