Figured I would relieve you from the constant Virgin Islands posts… but there will be more!  A couple of weeks ago I decided to make a quick trip to Pittsburgh to visit my sister!  The drive started out great and that's what I needed.. as this was my first "long" drive alone (cough, cough 4.5 hours).  It didn't take long for it to turn into a massive shit show – Apple Maps proved to not be my friend.  I couldn't wait to be in Pittsburgh, it reminds everyone of Cincinnati – there are a ton of great restaurants, bars, and many different attractions.  Pittsburgh also has really quaint houses, a lot on the hillside if you can find a way to get the right view 🙂
Friday Night
We kept it lowkey.  Hannah made us the best shrimp alfredo I've ever had!  We stayed in and watched Take This Waltz; we've been really into indie/old movies lately!  A couple of our recent favorites: I Don't Feel at Home in This World Anymore and Gia. Out of those three: you must watch I Don't Feel at Home in This World Anymore!  Definitely our favorite by far.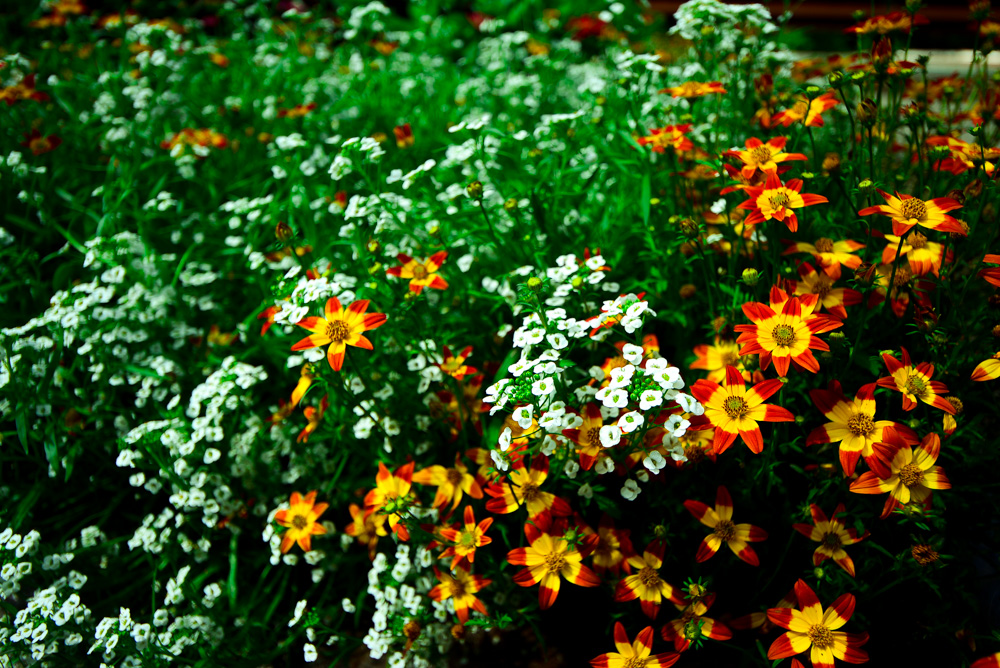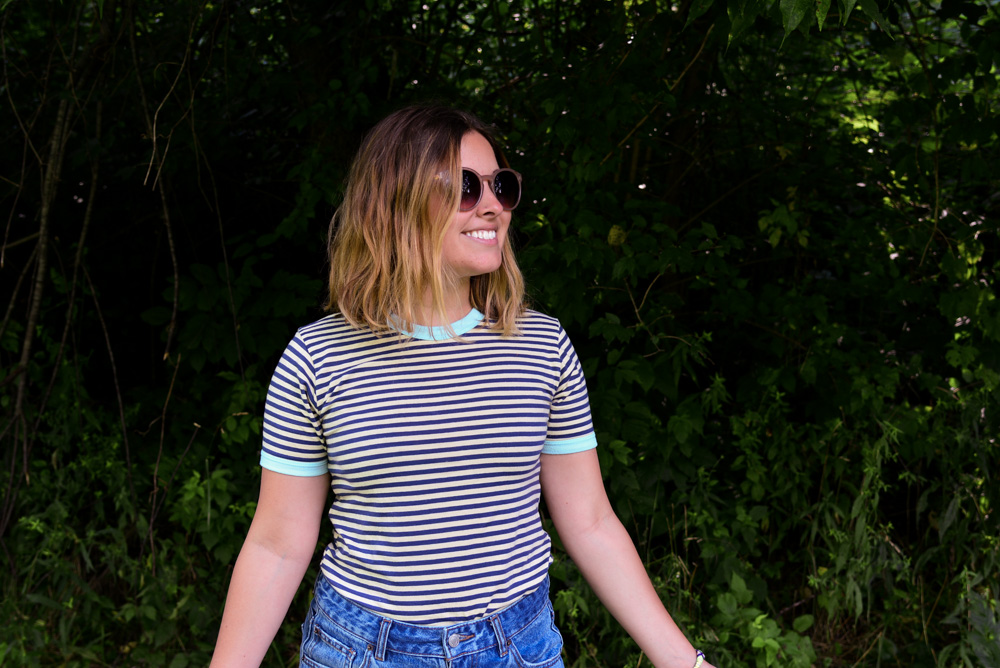 South Park
Somehow Hannah convinced me to take a hike at South Park – was not mentally prepared for that, but it was great to be outside with everyone enjoying the weather!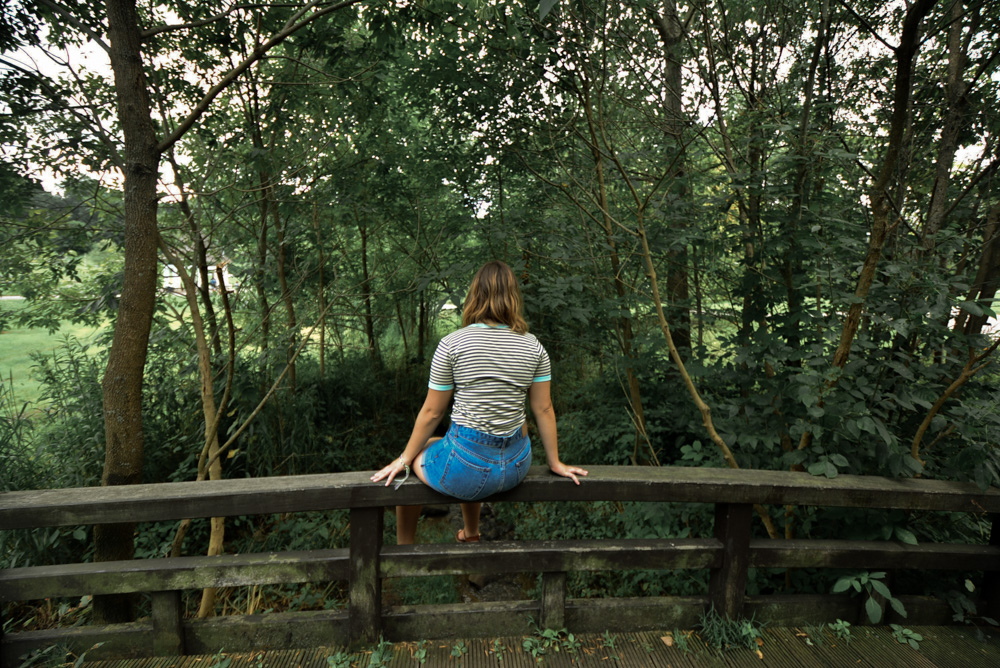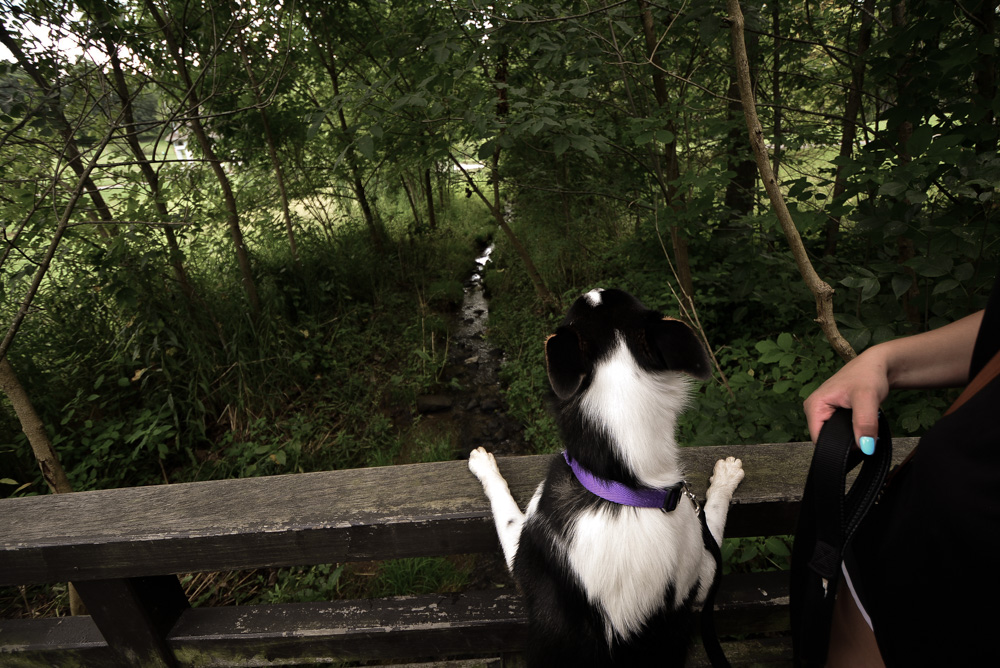 Shadyside: Lunch and Dessert!
Okay, okay – now to the good stuff!  Shadyside is such a cute area; it's one of the best neighborhoods for millennials in Pittsburgh, and the streets are lined with boutiques and urban restaurants! One of my favorite restaurants in Cincinnati is Thai Express – I go nuts for their Pad Thai.  I am continually trying new Thai restaurants to compare (I know, I know, why fix it if it ain't broke?), and truthfully, nothing compares.  That's where Noodlehead comes in; I did some research on Thai restaurants in Pittsburgh and Noodlehead had a whopping 700 Yelp reviews – yep, you read that right: 700!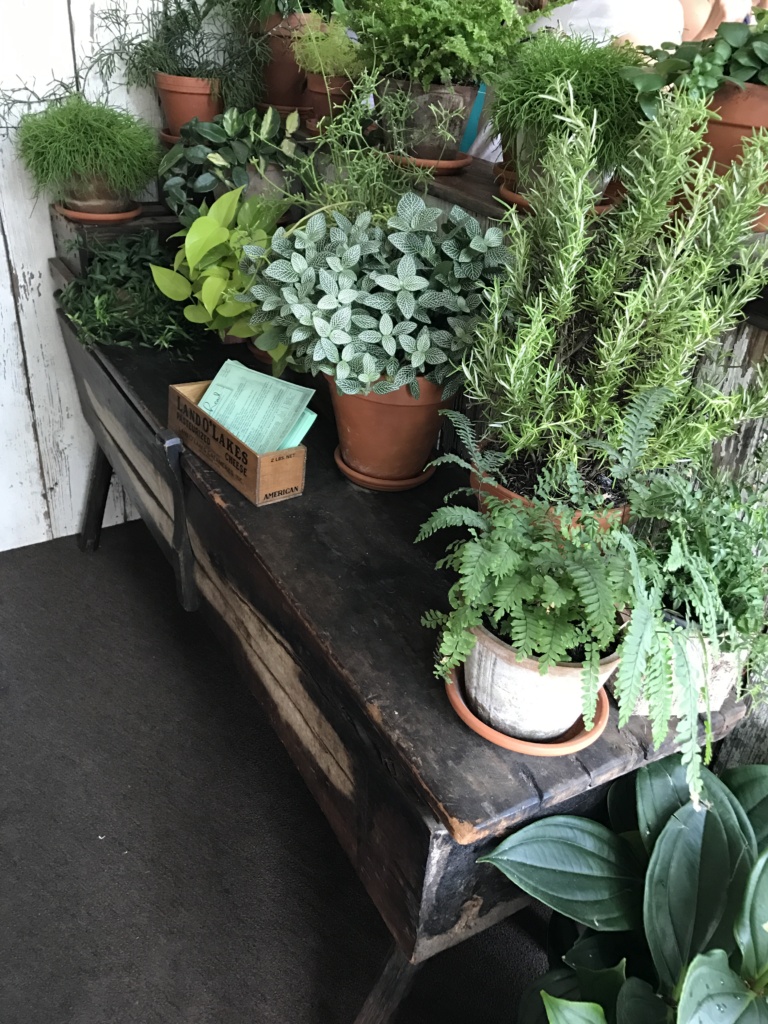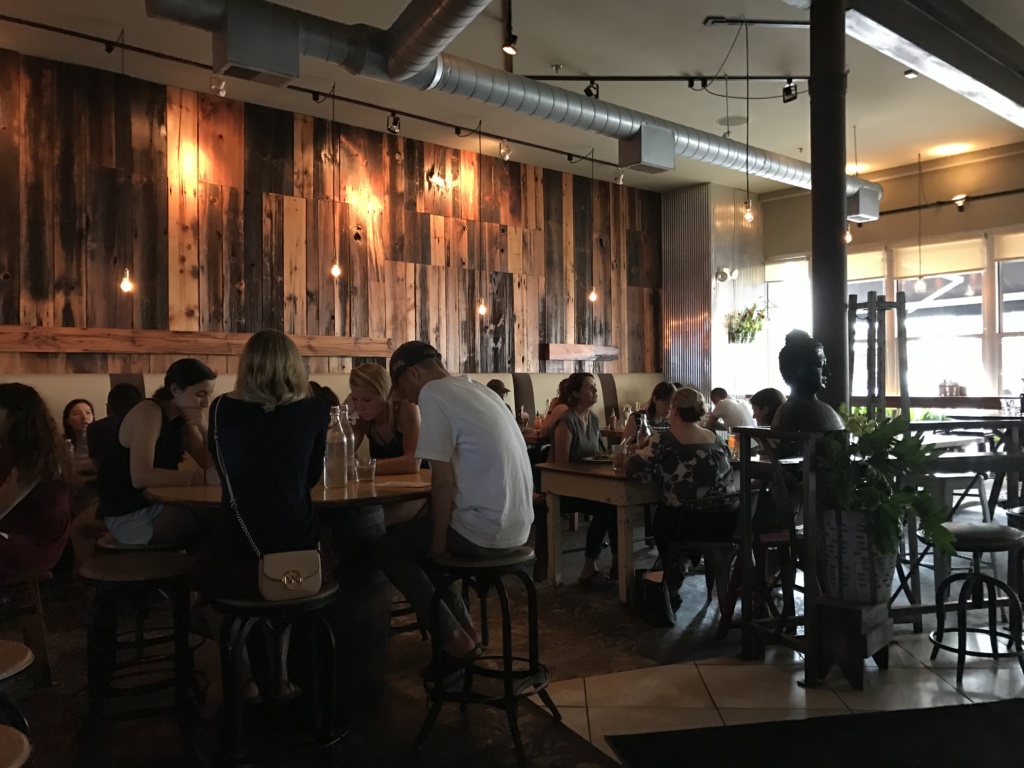 I would have liked to take more photos inside, but it was pretty dark and my lens was not having it!  On a happier note, this was Hannah's FIRST TIME eating thai food – she LOVED it.  My work there is done 😉 Oh, and I'm sure you're wondering what my thoughts were: it's pretty close, but Thai Express still reigns supreme. We will definitely be back to Noodlehead though!  Massive portions for a reasonable price – can't go wrong with that.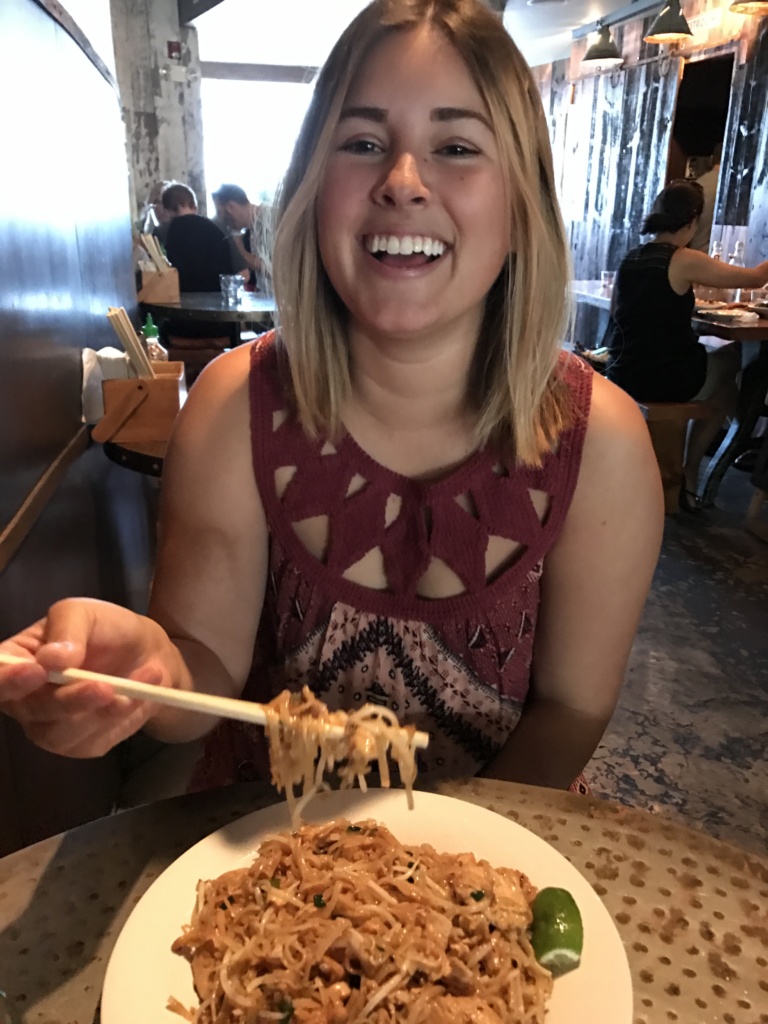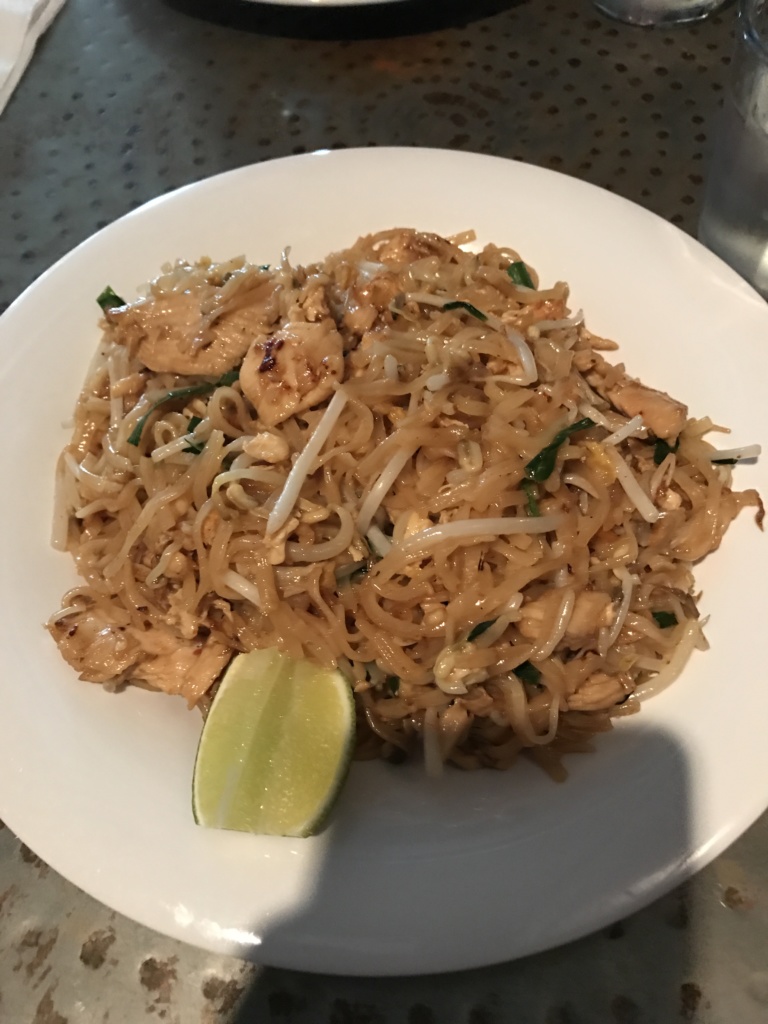 We had plans to go to an ice cream shop by her house, but then there was Millie's, right next door to Noodlehead.  The two-toned building with white picnic tables out front was too friendly and inviting to pass up.  So lo and behold..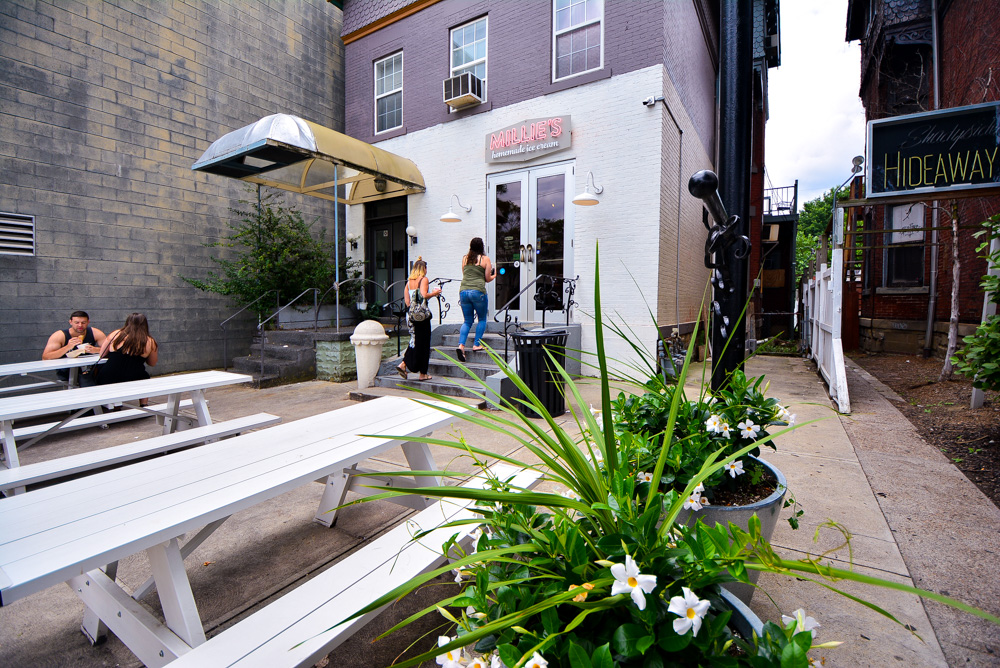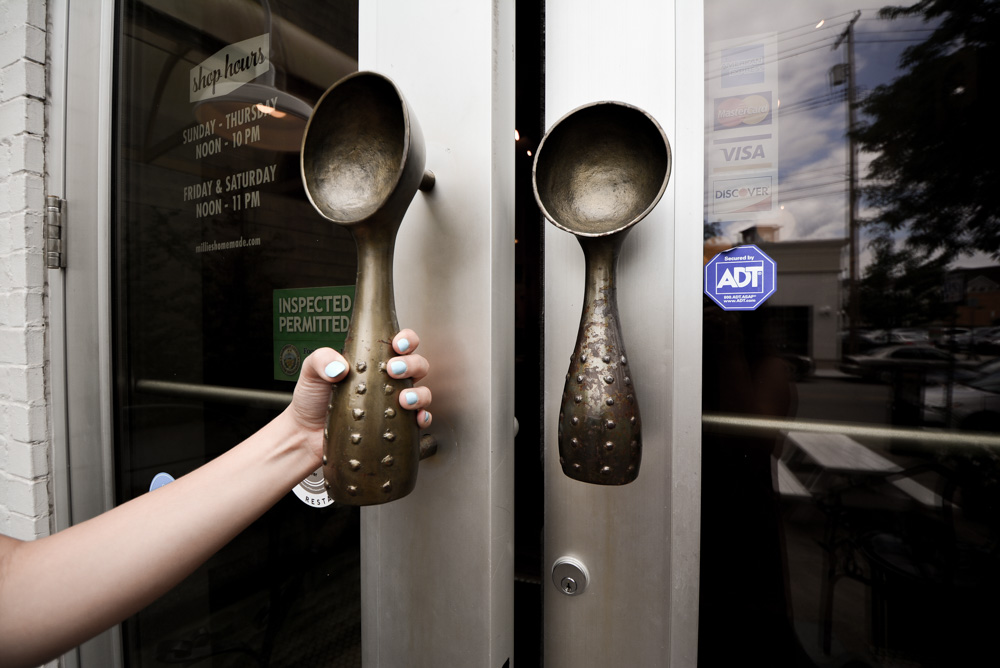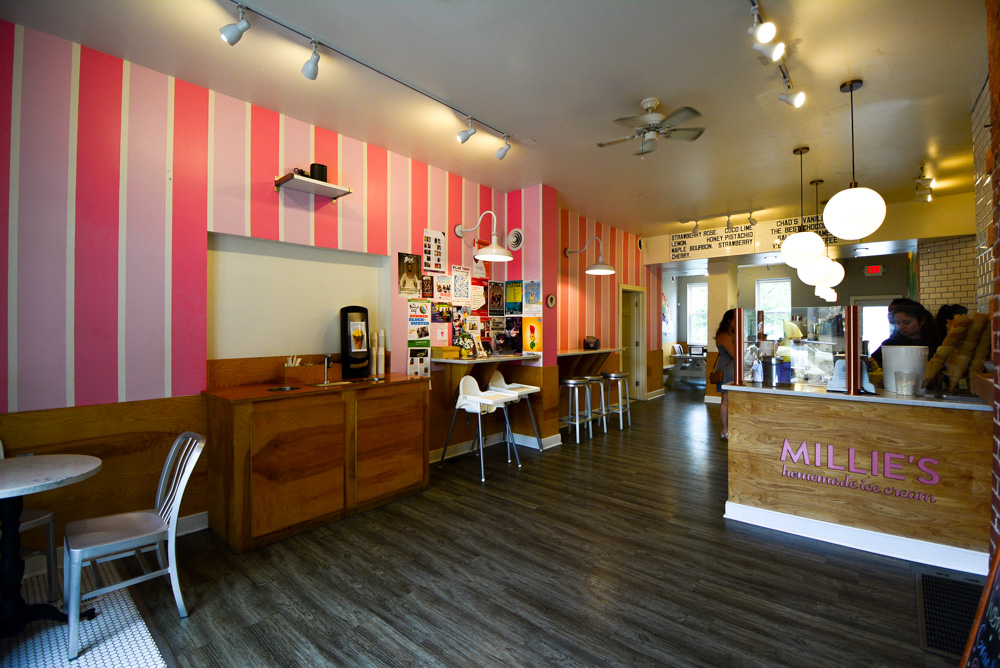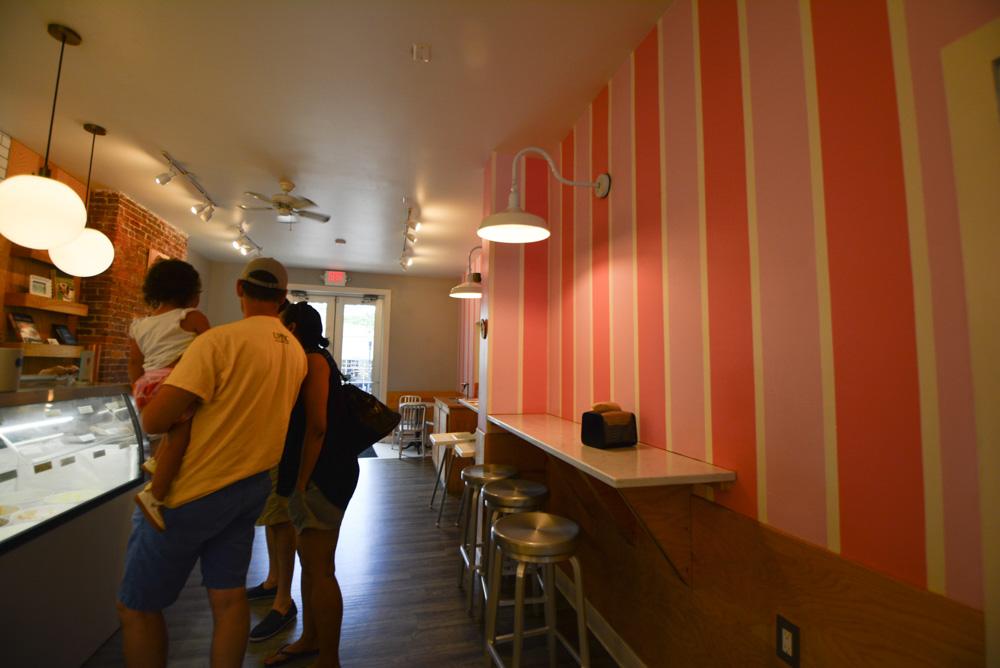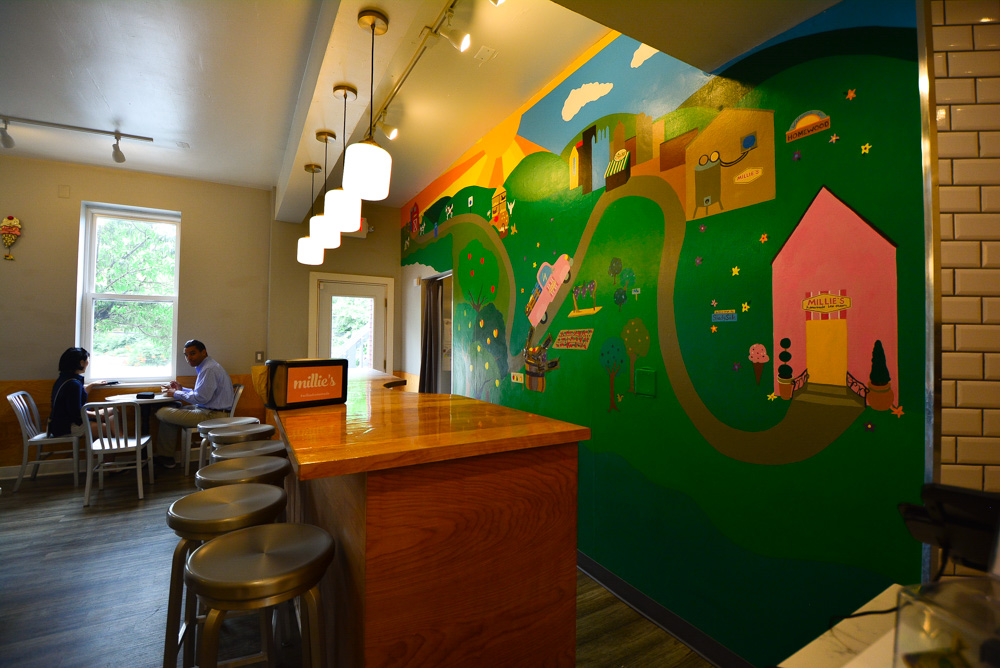 Millie's is what a girls dreams are made of; it's so cute, pink, and F U N!  I had the vanilla and rose ice cream… talk about heaven.  Naturally, this just turned into a photo shoot: just a girl and her ice cream cone.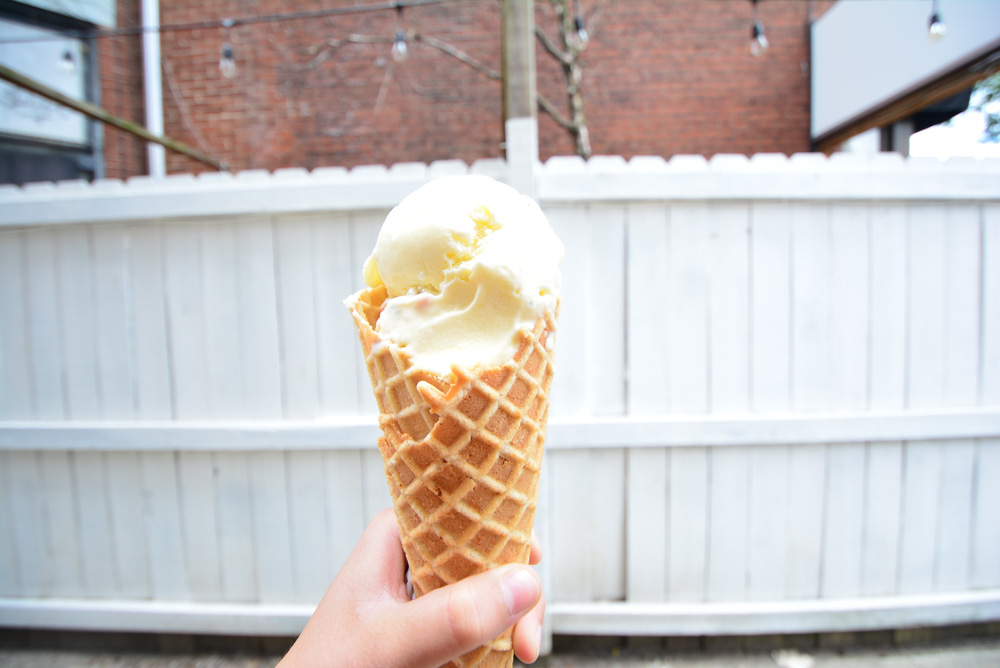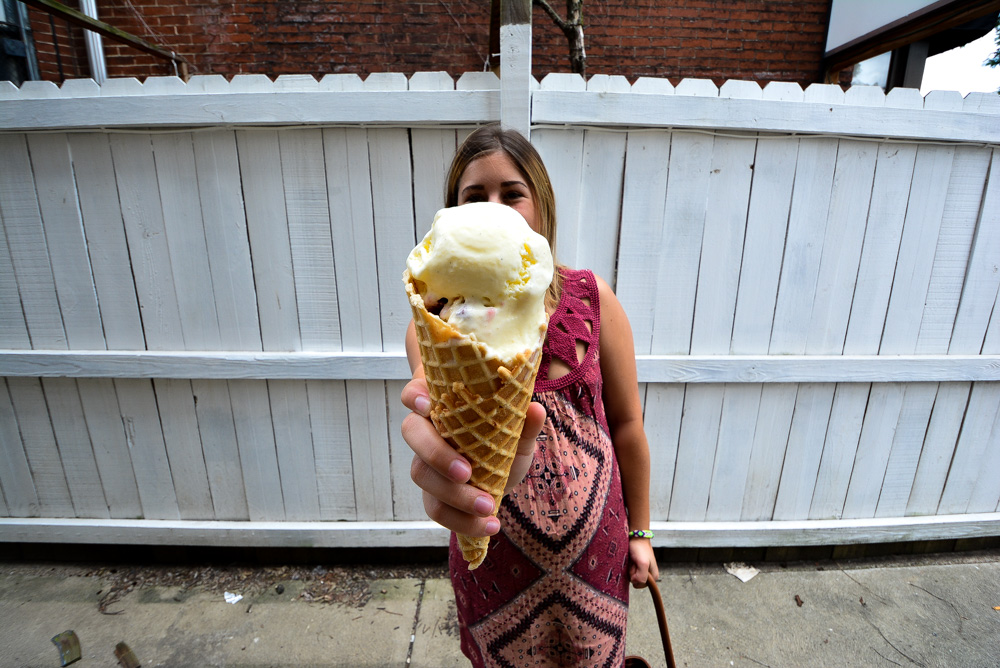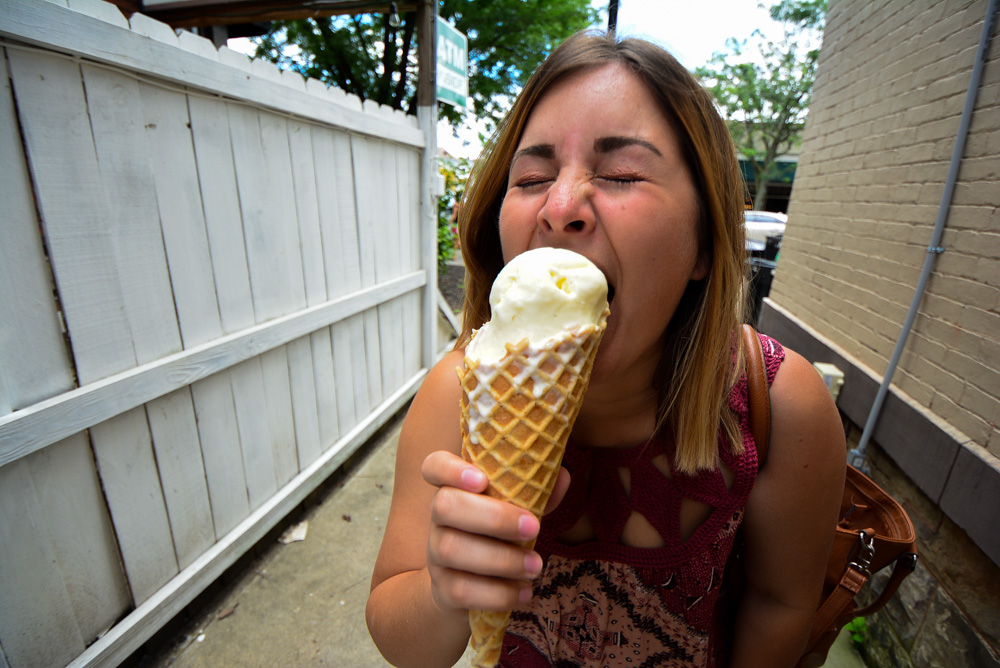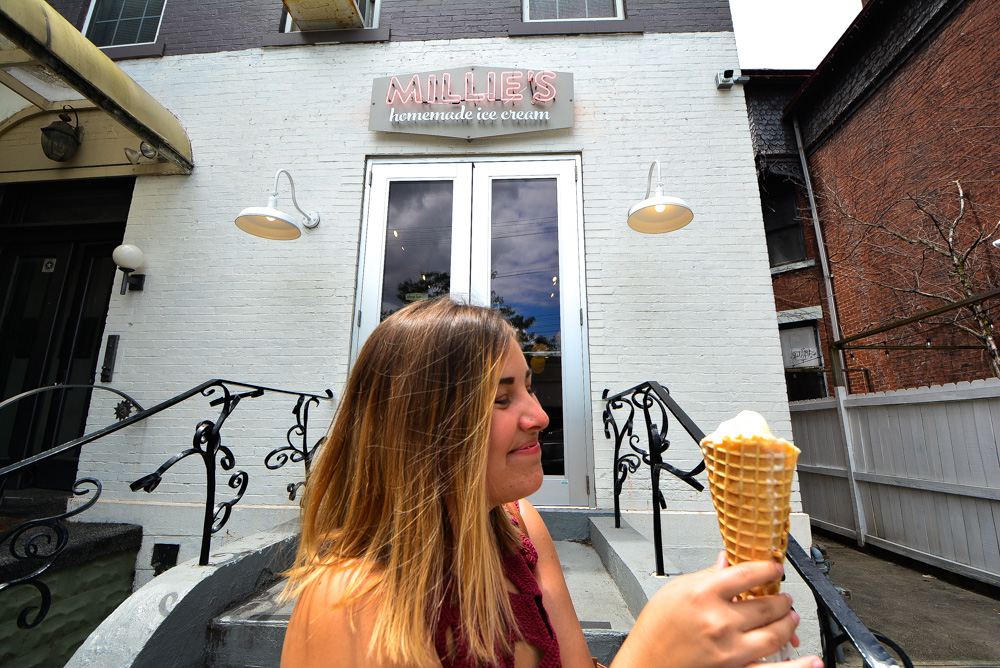 RIP: melted ice cream cone – it was pouring out of the bottom like no other, but it was delicious and well worth the mess.
Entertainment
We were ZONKED out after hiking, stuffing our face with thai, and ice cream that we laid down for a power nap, which turned into a good two hours.  We had a comedy show to get to!  But first… we needed to visit the Mount Washington Overlook!  There is a gorgeous church across the street that I wanted to get photos of too.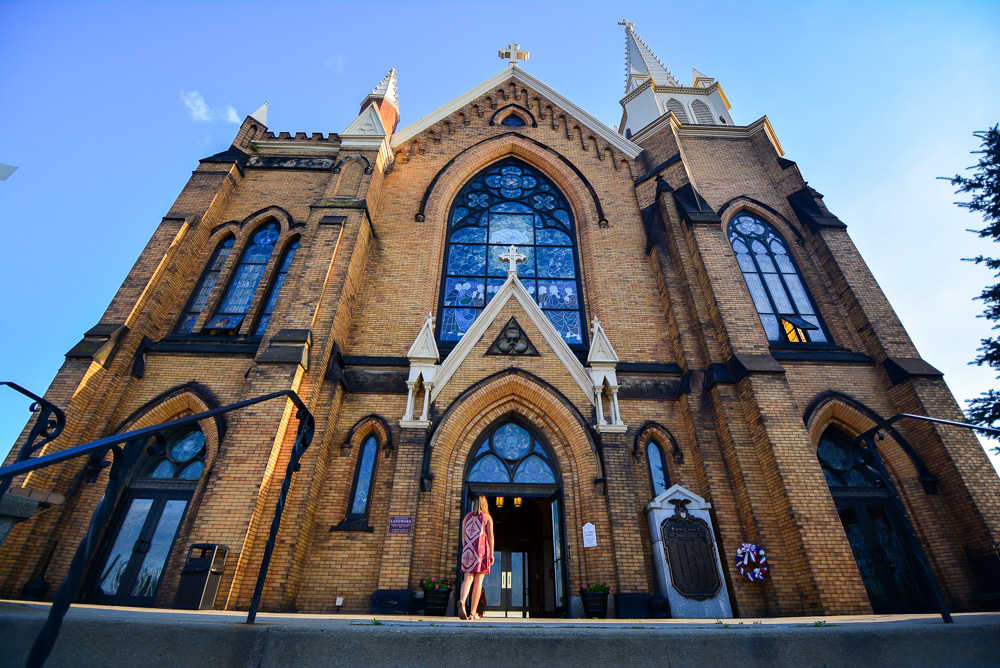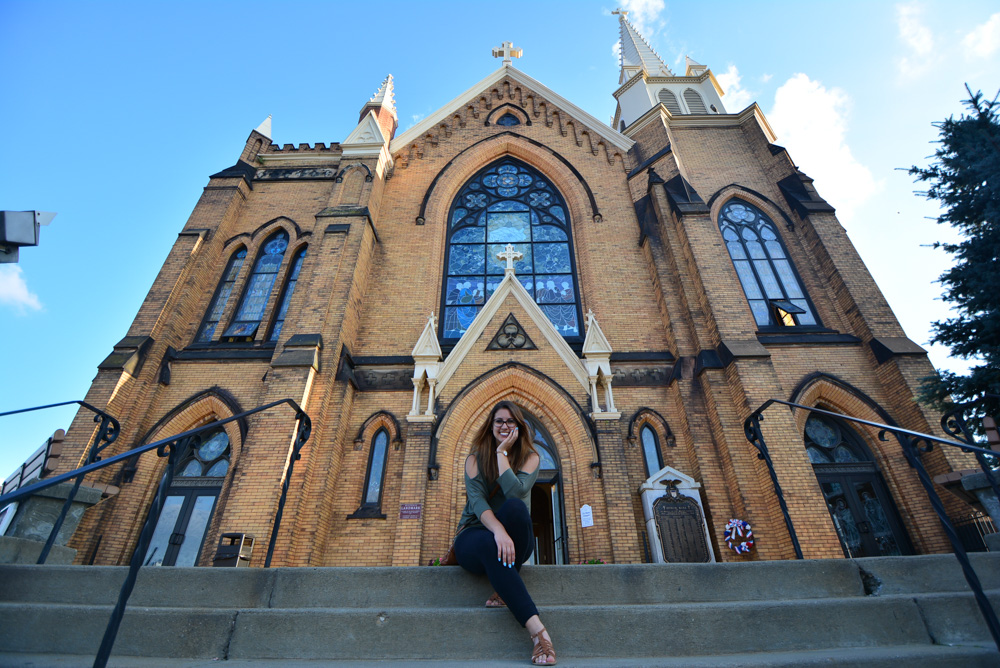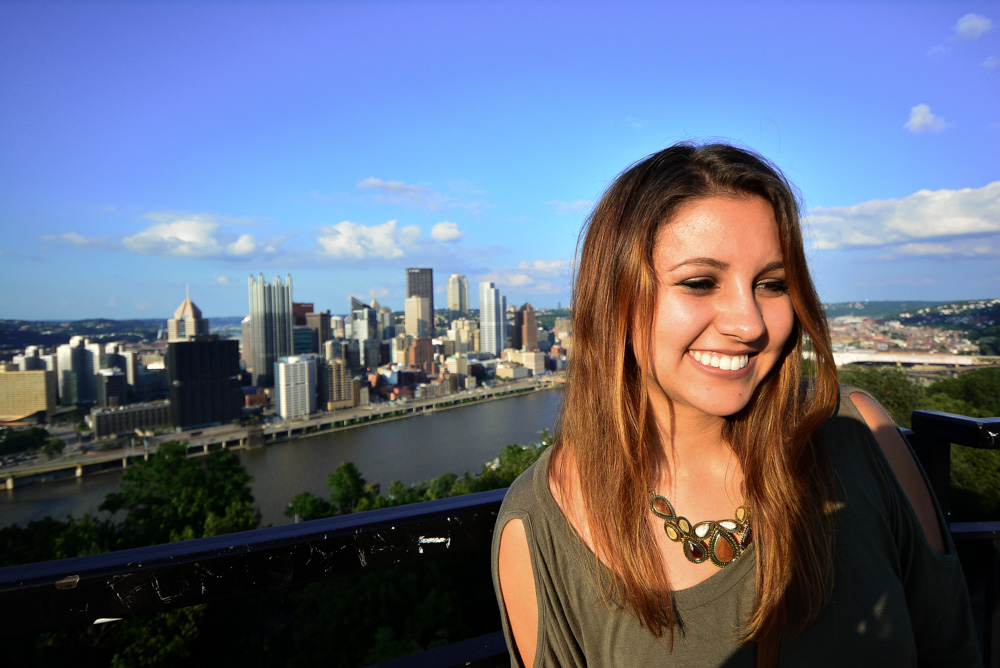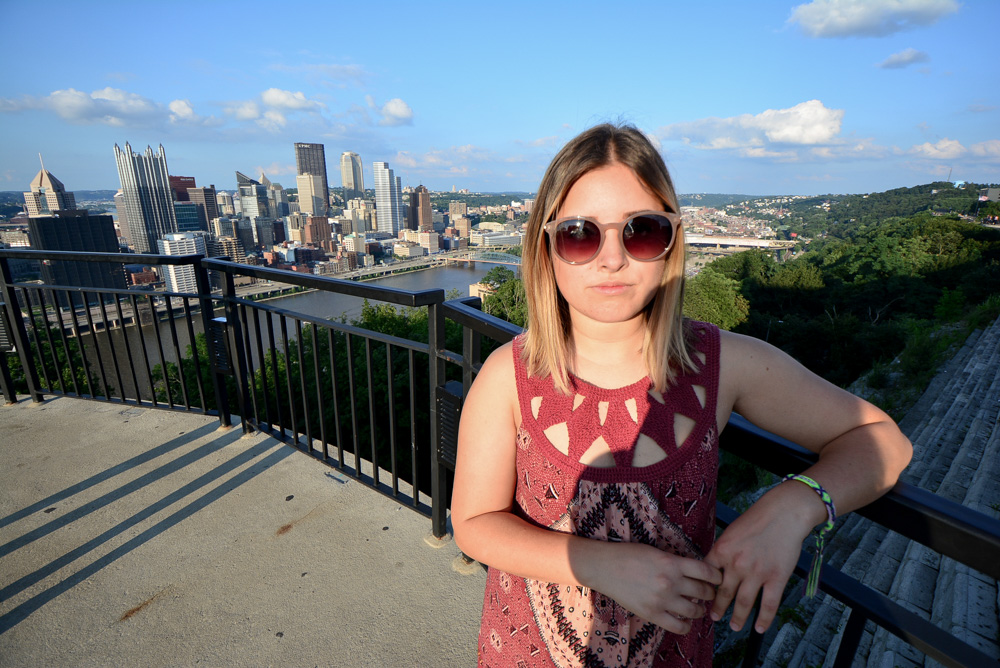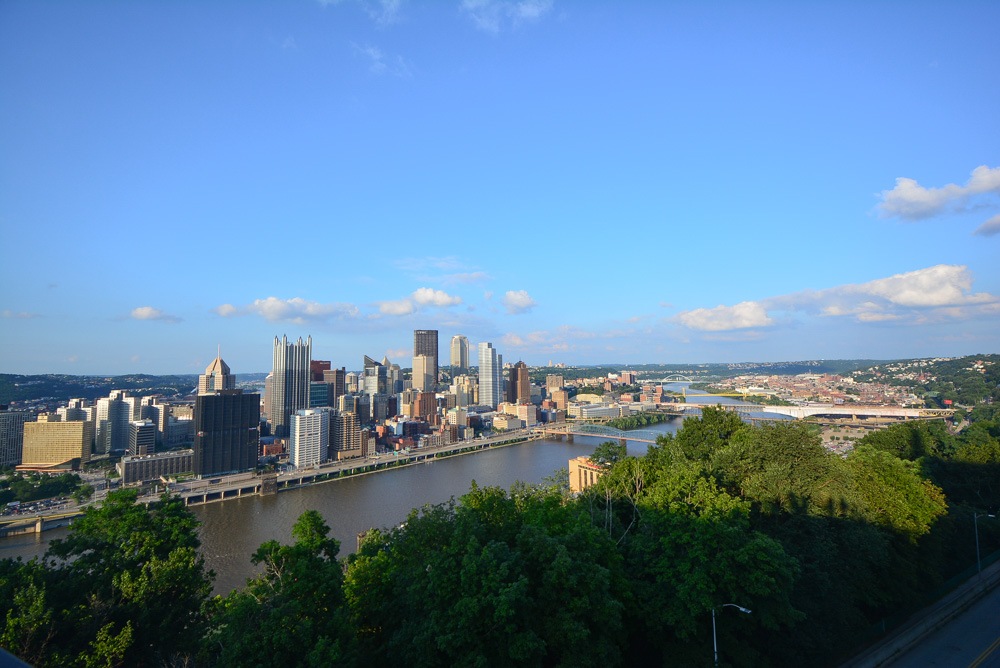 Hannah loves improv, so we went to Arcade Comedy Theater downtown, that she frequents often!  It's BYOB which is cool – it has an overall cool vibe in general.  I have never laughed harder – we saw a great line up of comedians, Kevin James Doyle, also known as the 30 Year Old Virgin brought the show home.  I wanted to drive to see him in Columbus!  That's how great he was.  If he visits your city – he is a must see. Ugh, I loved him.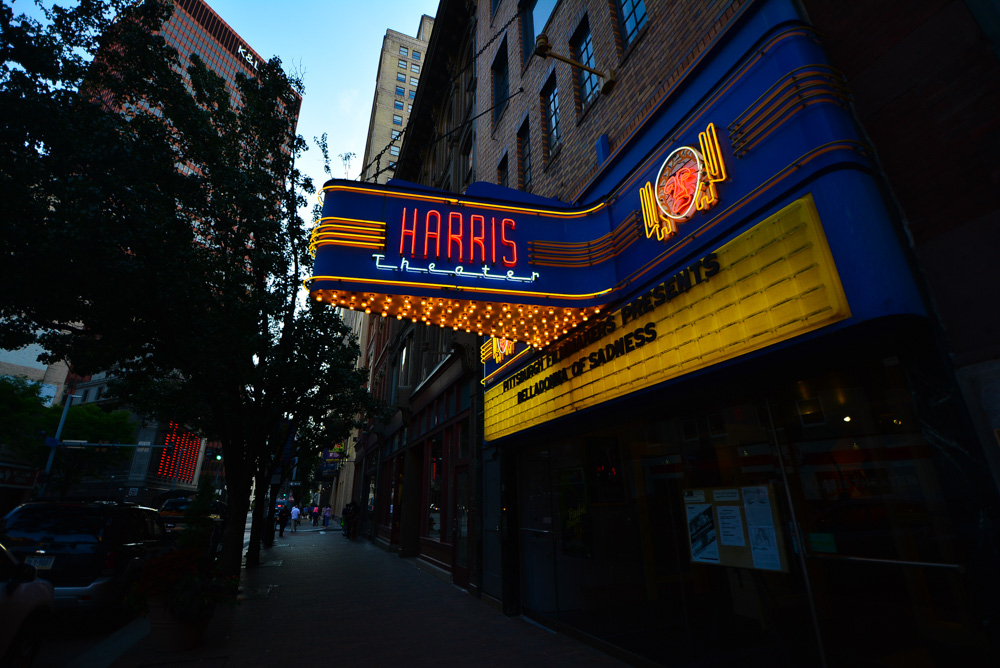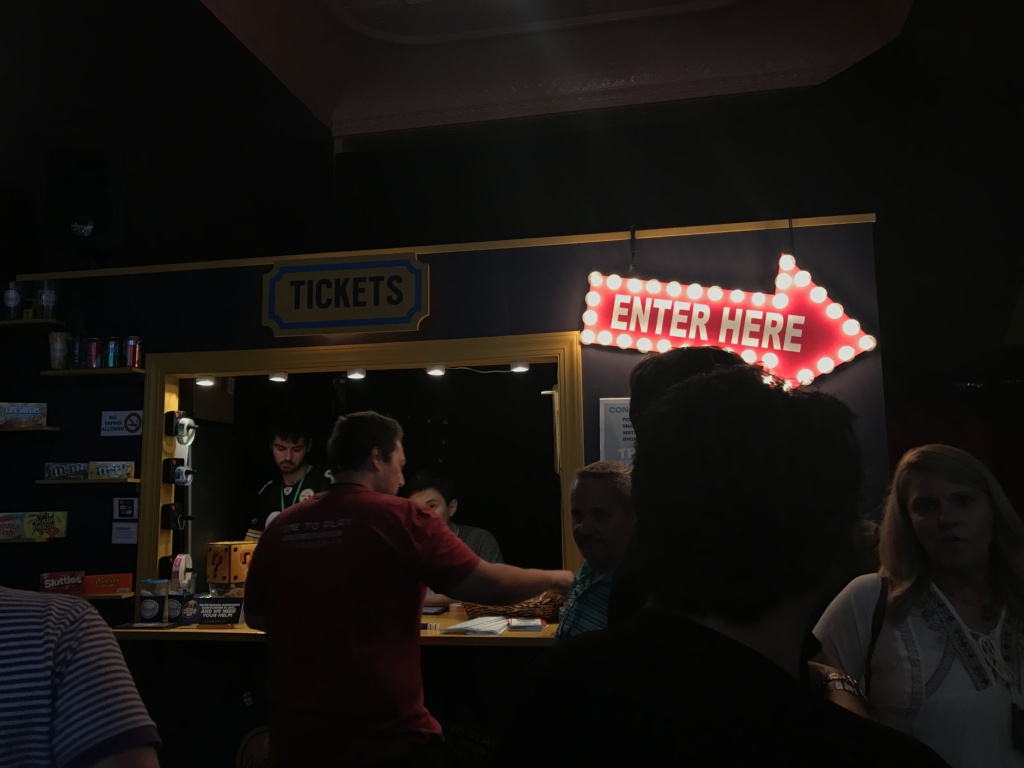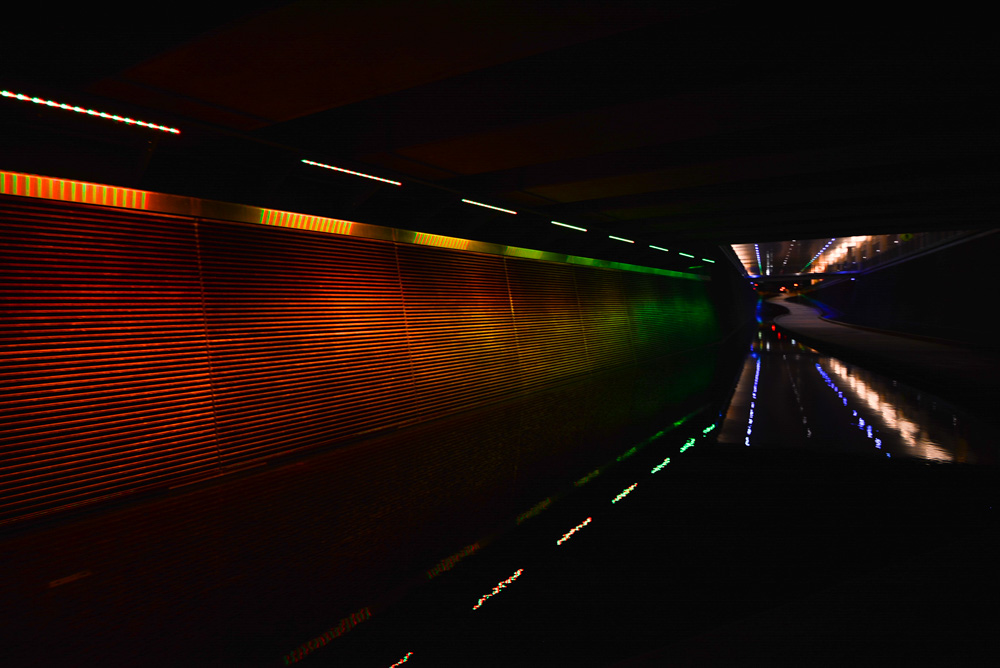 If you missed my post about trying raw beef – here you go!
Until next time!